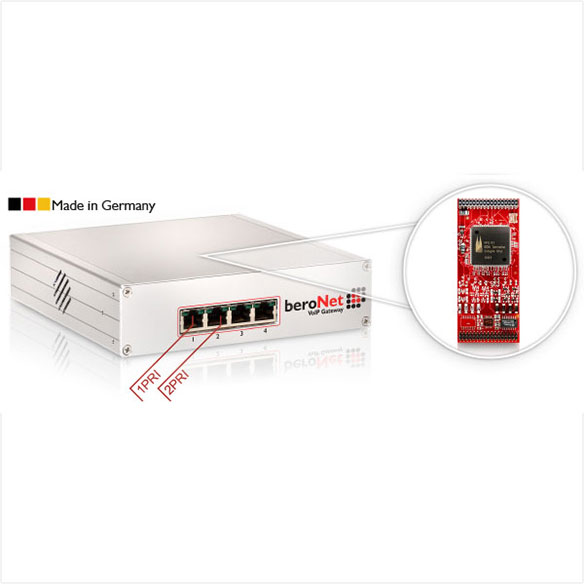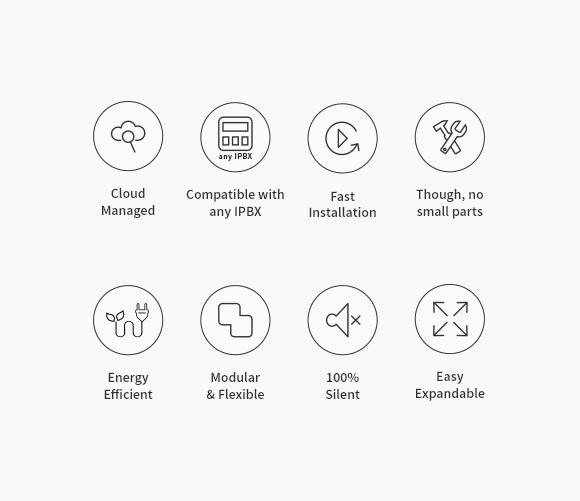 beroNet 2 PRI VoIP Gateway
Das beroNet 2 PRI Gateway (BF16002E1Box, BF64002E1Box) enthält 2 PRI (S2M, E1) Ports. Jeder einzelne Port kann individuell im NT (Network Termination) bzw. TE (Terminal Equipment) Modus betrieben werden. Über eine virtuelle CAPI können auch Faxserver angeschlossen werden. Es ist das ideale Gateway, um eine sanfte Migration (Schritt-für-Schritt Migration von alter TK-Anlage zu moderner VoIP-Anlage) durchzuführen. Das Gateway lässt sich komfortabel über die beroNet Cloud administrieren, updaten und überwachen.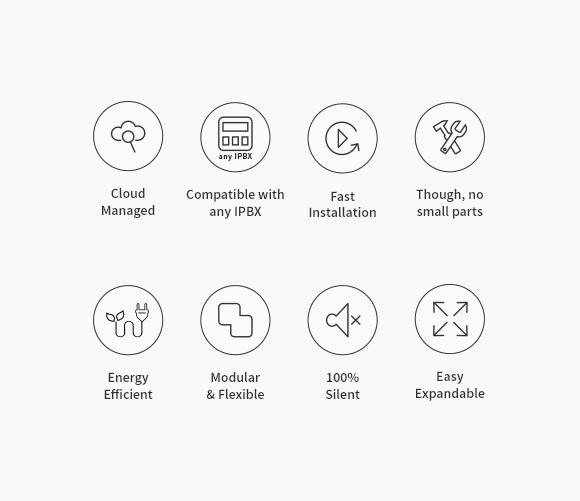 Vorteile
Verbindet SIP mit ISDN
ISDN-Port kann im TE- oder NT-Modus geschaltet werden.
Erweiterbar mit einem Zusatzmodul (PRI, BRI, FXO, FXS, GSM)
Cloud-Verwaltung
Kaskadierbar über PCM
19" Rack oder Wandmontage möglich
Hochwertiges Aluminiumgehäuse
Virtuelles CAPI verfügbar
Technische Daten
2 PRI (S2M, E1) ISDN Ports
Every Port is configurable in NT or TE Mode
Termination resistors (100 Ohm) per line configurable
Layer 2 ist Q.921 and Layer 3 is Q.931 (EuroISDN DSS1) compatible
DSS1 Feature Set: CLIP/No-Screening, CLIR, COLP, UUS, MCID, CD, CNIP AOC-D
Q.SIG Feature Set: CNIP
Optional CAPI 2.0 available (Fax, voice)
Codecs: G.723.1 and Annex A, G.729 a/b, G.726, (up to 16 channels)
G.711 u/a (up to 64 channels), including echo cancellation
G.168/G.165 echo cancellation with echo path change detection, up to 128ms
Voice activity detection / comfort noise generation
DTMF digit detection and generation
T.38 Fax Relay (V.27, V.29 and V.17) (up to 16 channels)
SIP user agent IETF RFC3261 compatible
SIP via UDP/TCP with optional TSL support, SRTP
"TDM Bridging" of two beroNet devices via PCM Bus
Power supply: 110-230V, operating 12V DC bei 2 A
Compliance: CE (EN55022, EN55024, EN60950)
Dimensionen und Gewicht
Dimensions: 168 x 168 x 42 mm
Weight: 800g
Mounting: 1U, optional available: 19" rack brackets, wall-mountable
Storage temperature: -20° – 70°C
Operating temperature: 0° – 40°C
Humidity: 20% – 90%, non-condensing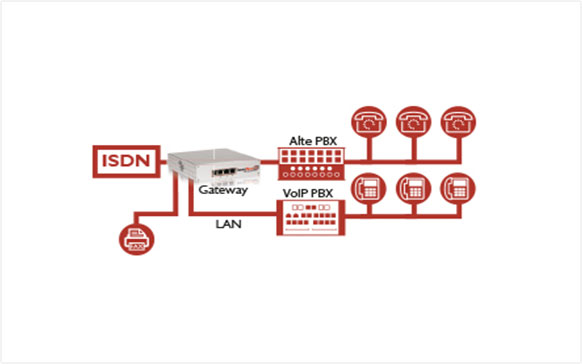 Sanfte Migration (VoIP-Migration):
Schritt für Schritt Migration
Kosteneinsparungen durch Integration des proprietären PBX-Systems
Das proprietäre PBX-System fungiert weiterhin als Backup-System.