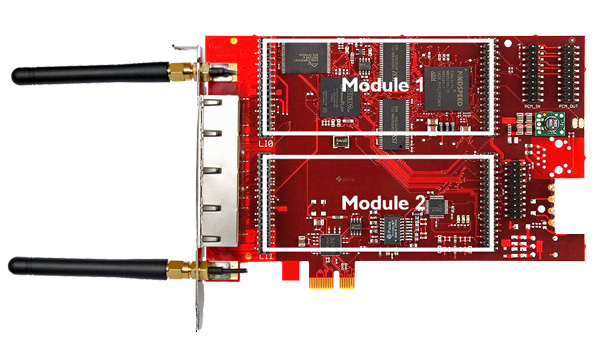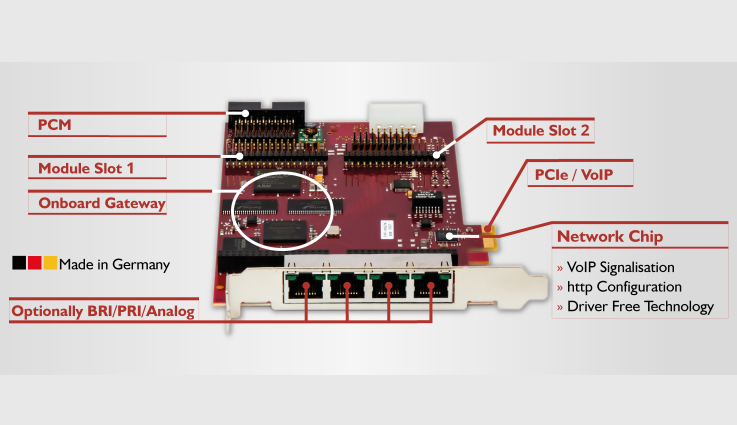 beroNet driverless and modular PCIe VoIP Card
VoIP Gateway in the form factor PCI Express
The beroNet PCIe VoIP cards are full-fledged VoIP Gateway Media Gateways in the form factor PCI Express. They are modular and can be equipped with up to two modules. Digital ISDN (BRI / PRI) and analog (FXS / FXO) are available for beroNet's modular technologies. An optional PCM-Bus connection between two Gateways or beroNet VoIP cards ensures real hardware bridging for transparent audio transmission of sensitive voice, video, data and Fax services. The beroNet PCI(e) VoIP cards are ideal for PBX manufacturers, Telephony Appliances, Fax appliances, Unified Communication Appliances, and hybrid systems.

Modular design allows beroNet VoIP Cards to meet any need
beroNet PCIe VoIP Cards' modular design allows this device to meet any unique need. Modular VoIP technology increases adaptability and flexibility by allowing you to change the modules instead of the entire device if it is needed for a different VoIP installation.
Features
Interface for the card is SIP
Compatible with any PBX
Technology independent
Large interface variety: VoIP, ISDN and/or Analog
Tough, no moving parts
Hybrid: up to 2 Modules on one card
Cloud managed
No drivers or API needed: System detects card as Realtek Network Card
Expandable with a supplementary beroNet VoIP Card
Technical Specifications
Codecs: G.723.1 and Annex A, G.729 a/b, G.726 (up to 32 channels), G.711 u/a (up to 128 channels)
G.168/G.165 echo cancellation with echo path change detection, up to 128ms
Voice activity detection / comfort noise generation
DTMF digit detection and generation
T.38 Fax Relais (V.27, V.29 and V.17)
SIP User Agent IETF RFC3261 conform
SIP via UDP/TCP with optional TSL support
TDM bridging over 2 berofix devices through PCM bus interconnection, 8.192 kB/s
PCI 2.2 conform 3,3V (Realtek 8139CL Chipsatz), 5V Slot compatible, min. 3,3V
PCI express 1.1 compliant (chipset Realtek 8111C)
Compliance: CE (EN55022, EN55024, EN60950)
Base Models expandable with addon modules (ISDN, Analog, Hybrid)
Model: BF400e
Max Concurrent Channels: 16

Additional Module Slots Available: 2
Model: BF1600e
Max Concurrent Channels: 64

Additional Module Slots Available: 2
Standard Configurations: ISDN
Model: BF4002S02FXSe - 2 BRI/S0 and 2 FXS PCIe VoIP Card
Max Concurrent Channels: 16

Additional Module Slots Available: 1
Model: BF4004S0e - 4 BRI/S0 PCIe VoIP Card
Max Concurrent Channels: 16

Additional Module Slots Available: 1
Model: BF16001E1e - 1 PRI E1 PCIe VoIP Card
Max Concurrent Channels: 64

Additional Module Slots Available: 1
Model: BF16001T1E1e - 1 PRI E1/T1 PCIe VoIP Card
Max Concurrent Channels: 64

Additional Module Slots Available: 1
Standard Configurations: Analog
Model: BF4004FXOe - 4 FXO PCIe VoIP Card
Max Concurrent Channels: 16

Additional Module Slots Available: 1
Model: BF400FXSe - 4 FXS PCIe VoIP Card
Max Concurrent Channels: 16

Additional Module Slots Available: 1