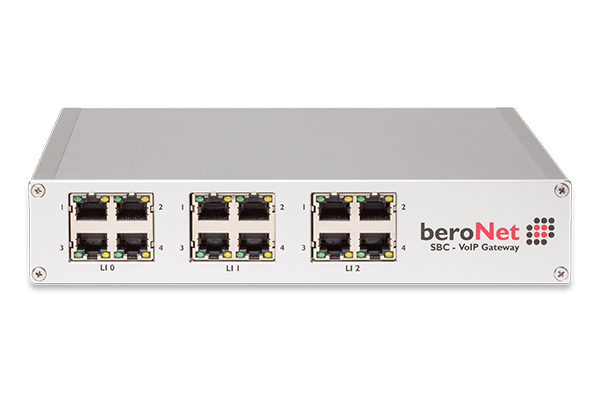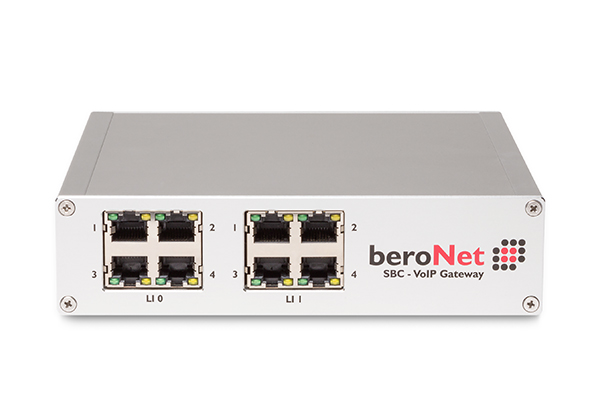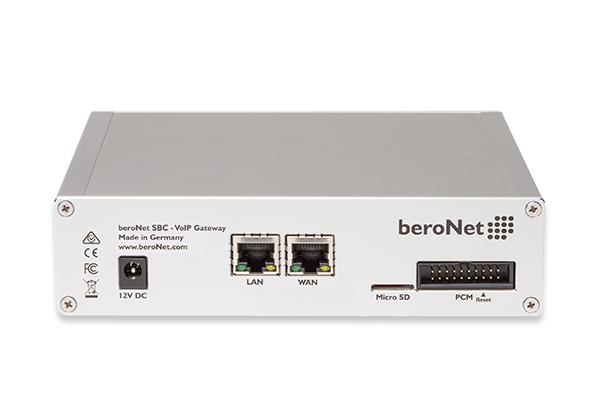 beroNet modular and cloud managed Session Border Controller
Innovative technology powered by beroNet OS
beroNet modular VoIP SBCs are a security solution for VoIP networks with up to 64 possible sessions. Depending on the model, up to three beroNet modules can be added, offering any combination of BRI, PRI, FXS and FXO interfaces. Configuration is easy done via the beroNet WebGUI. The VoIP SBCs are compatible with various IP-PBX and VoIP providers and can be managed via the beroNet cloud. All models have two network interface cards.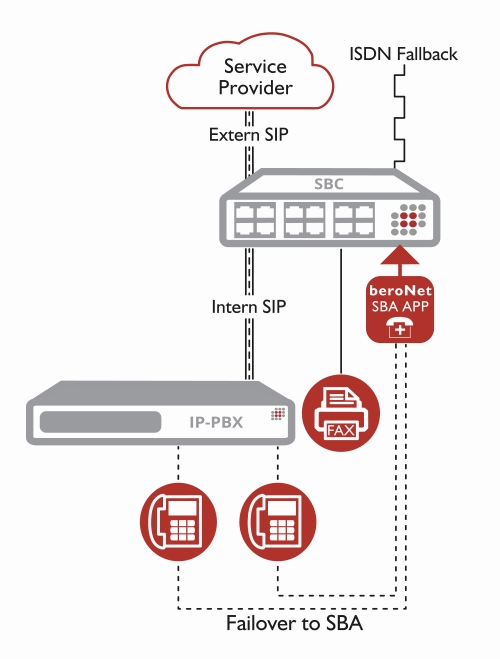 Secure and simplify your VoIP Network
Make IPBX Systems, VoIP Providers and legacy PBX compatible
Secure SIP Communication separating internal and external SIP networks
Secure the IPBX with topology hiding
SIP-DDoS Detection / Protection
Firewall Access Control List
Adapt SIP Headers
Convert from TCP to UDP, RTP to SRTP, varying codecs
Hybrid, legacy Modules available: ISDN, Analog
Voice Failover options via PSTN or LTE, Survival Branch PBX App available
Cloud managed

Modularity provides you with complete flexibility
Modular VoIP access technology increases adaptability and flexibility by allowing you build a solution specific for your installation and to change the modules instead of the entire device if it is needed for a different future VoIP installation.

Features
Make IPBX Systems, VoIP Providers and legacy PBX compatible
Adapt SIP Headers
Secure the IPBX with topology hiding, and common attack prevention
Easy to manage via WebGUI
Convert from TCP to UDP, RTP to SRTP, varying codecs
Hybrid: legacy Modules on available: ISDN (BRI, PRI), Analog (FXS, FXO), 2G/3G/4G
Failover options via PSTN or GSM, Survival Branch PBX App available
Tough, no moving parts
Low power consumption
Cloud managed
Expandable additional Gateways and Apps
Technical Specifications
Two or three module slots depending on the specific model
Two 100Mbit LAN Ports (LAN / WAN)
microSD card slot
G.711 including echo cancellation
G.168/G.165 echo cancellation with echo path change detection, up to 128ms
Voice activity detection / comfort noise generation
DTMF digit detection and generation
T.38 Fax Relay (V.27, V.29 and V.17)
SIP user agent IETF RFC3261 compatible
SIP via UDP/TCP with optional TLS support, SRTP
"TDM Bridging" of two beroNet devices via PCM Bus
Power supply: 110-230V, operating 12V DC at 2A
Dimensions: 340 x 255 x 46 mm / Weight: 500 g (dependent on config.)
Mounting: 1 U, optional available: 19" rack brackets, wall-mountable
Storage temperature: -20° to 70°C / Operating temperature: 0° to 40°C
Humidity: up to 90%, non-condensing
SBC Base Models expandable with addon Modules (ISDN, Analog, Hybrid)
BNSBC-M with 2 free slots for Modules
Max Concurrent Sessions: 8

Max Concurrent PSTN Channels: 16
BNSBC-L with 3 free slots for Modules
Max Concurrent Sessions: 32

Max Concurrent PSTN Channels: 64
BNSBC-XL with 3 free slots for Modules
Max Concurrent Sessions: 64

Max Concurrent PSTN Channels: 128
Standard Configurations: SBC with ISDN Interface
BNSBC-M-4BRI (4 BRI/S0 Modular VoIP SBC)
Max Concurrent Sessions: 8

Max Concurrent PSTN Channels: 16
BNSBC-M-2HYB (2 BRI/S0 and 2 FXS Modular VoIP SBC)
Max Concurrent Sessions: 8

Max Concurrent PSTN Channels: 16
BNSBC-L-1PRI (1 PRI E1/T1 Modular VoIP SBC)
Max Concurrent Sessions: 32

Max Concurrent PSTN Channels: 64
BNSBC-L-2PRI (2 PRI E1/T1 Modular VoIP SBC)
Max Concurrent Sessions: 32

Max Concurrent PSTN Channels: 64
BNSBC-XL-2PRI (2 PRI E1/T1 Modular VoIP SBC)
Max Concurrent Sessions: 64

Max Concurrent PSTN Channels: 128
Standard Configurations: SBC with Analog Interfaces
BNSBC-M-4FXS (4 FXS Modular VoIP SBC)
Max Concurrent Sessions: 8

Max Concurrent PSTN Channels: 16
BNSBC-M-4FXO (4 FXO Modular VoIP SBC)
Max Concurrent Sessions: 8

Max Concurrent PSTN Channels: 16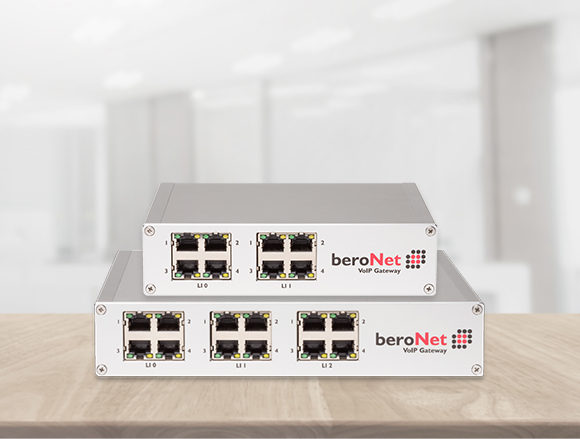 Meet your customers' requirements with the right SBC license
All SBC Models come with two network interface cards and with 2 concurrent calls. To add more concurrent calls licenses are required
Name

   

Description

Which SBC fits?

BNSBC-SESSION-4
   License for 4 sessions
BNSBC-M
BNSBC-SESSION-8
   License for 8 sessions
BNSBC-M
BNSBC-SESSION-16
   License for 16 sessions
BNSBC-L
BNSBC-SESSION-32
   License for 32 sessions
BNSBC-L
BNSBC-SESSION-64
   License for 64 sessions
BNSBC-XL