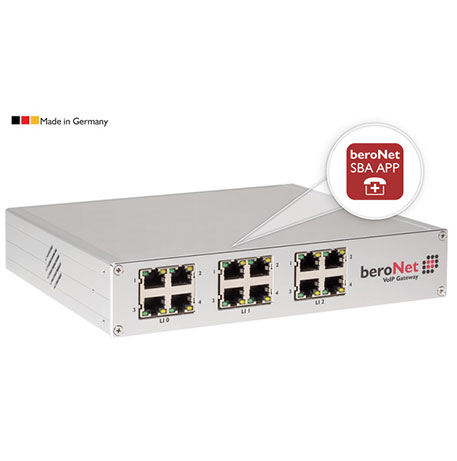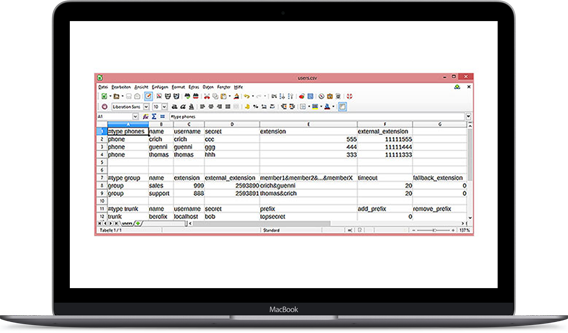 Survival Branch Appliance (SBA) APP
When an office loses connection with an off-site telephone system, local telephones are unable to communicate with each other or the outside world.
beroNet's SBA-App transforms a beroNet VoIP Gateway, Card or SBC into a Survival Branch Appliance, enabling the beroNet device to function as a local backup telephone system. With the SBA-App installed, local phones will continue to function when:
• the main telephone system fails
• the VPN/Internet connection to the main office is lost
• the Internet connection to the hosted PBX is lost
In these situations, local phones are registered directly with the beroNet device, allowing them to continue communicating with each other and the outside world.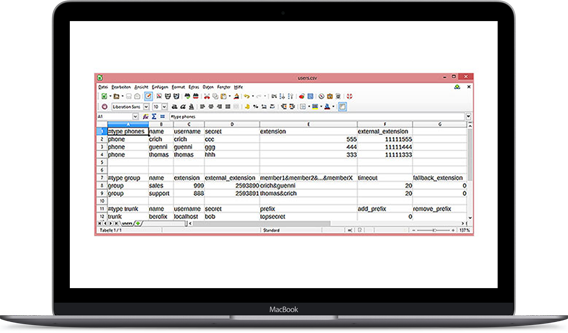 Easy to configure using a CSV file
Users, call groups and SIP trunks are easily configured using a CSV file. The structure of the CSV file is very simple, allowing it to be created and edited using a spreadsheet program such as Microsoft Excel. Alternatively, users can be exported from the main system as a CSV file and then imported into the SBA-App. This import can be done using the interface of the App.
Features
Users can call each other
Hold / Transferring Calls
Outgoing calls using SIP trunks or Gateway ports
Installation of call groups
Technical Specifications
Supports up to 20 users on the BF6400 or BNGW-XL Gateways
The SBA-App is independent of the primary telephone system used.
Survival Branch Appliance (SBA) APP
(SBA) APP Models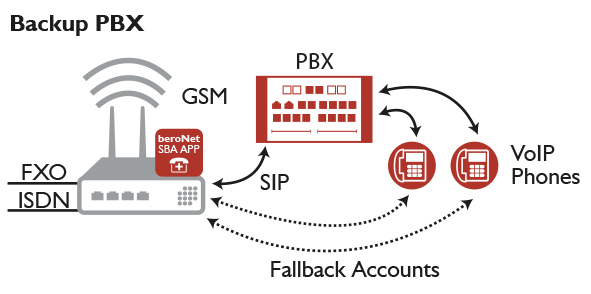 Installation and Scenarios
Once the App has been purchased for a beroNet VoIP device (PCI Card, SBC or Gateway), it can be easily installed from the beroNet Market via the web interface on the beroNet device. Alternatively, the SBA-App can also be pushed to the beroNet device via the beroNet Cloud. In case of a failure of the central PBX the SBA-App takes over rudimentary telephony features.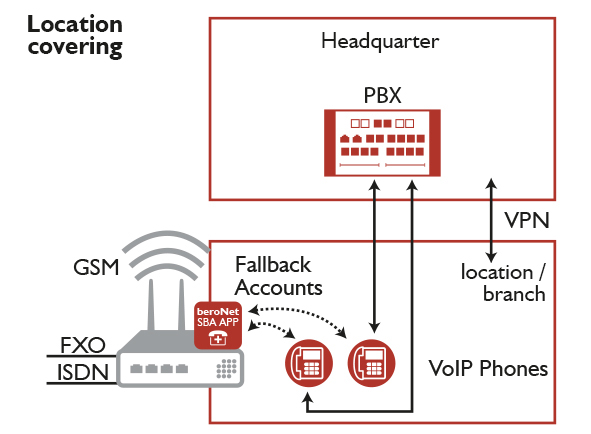 If the connection to the cloud PBX breaks, the SBA-App jumps in as local replacement PBX.