How to install 3CX for Debian in the beroNet Appliance
In this tutorial I will show you how to install 3CX the beroNet Hypervisor using the 3CX for Debian ISO file. The tutorial will end with a pro tip on how to install 3CX for Debian in under five minutes.
DETAILS
Soft Migration. How to replace your PBX with an IP-PBX
A STEP BY STEP GUIDE
This document discusses the different scenarios and challenges of a soft migration.
DOWNLOAD NOW FREE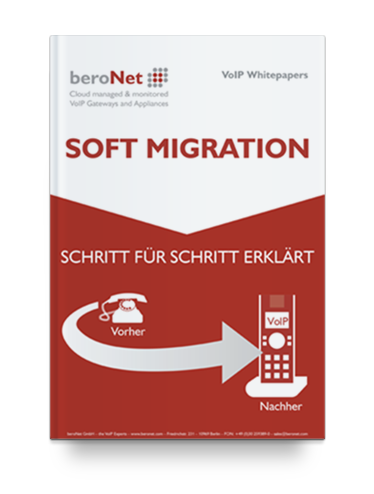 If a company is faced with the decision to renew its PBX-infrastructure, from today's perspective a VoIP system is the first choice. VoIP systems offer many advantages such as lower maintenance costs, higher compatibility between different manufacturers and a higher functional range; which improves communication efficiency.
At larger companies with more than 100 devices, this change is done through a soft migration. The soft migration allows the company to run the classic PBX system parallel to the new VoIP system. By doing so, the functionality of the new VoIP system can be thoroughly tested in an isolated part of the company.
This kind of migration is executed in 5 phases:
Test phase
Pilot phase
Migration of the existing accessory devices to the VoIP system
Successive migration of all the departments
Deconstruction of the classic PBX devices and infrastructure
After the second phase, the so-called Pilot phase, all departments will be individually migrated to the new system. This ensures that every department receives proper instruction on the new telephone system, so that it is better accepted by the employees and used more effectively.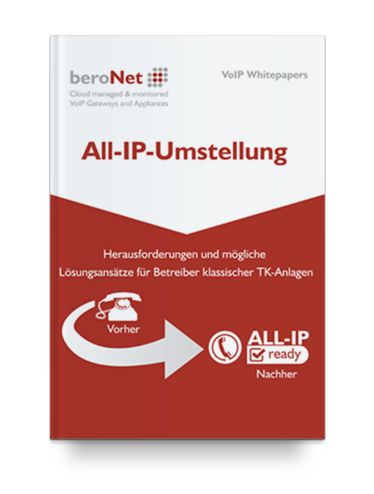 All-IP Transformation Safely convert your legacy PBX to All-IP
CHALLENGES AND POSSIBLE APPROACHES FOR OWNERS OF CLASSIC PBX SYSTEMS
After reading this white paper, you will be prepared to get your customers All-IP ready.
DOWNLOAD NOW FREE
All IP is the new buzzword of the telecommunication industry. But what will the consequences of replacing ISDN networks with ALL IP networks, especially for owners of classic PBX systems? Short reminder: All IP is a complete IP based access which will soon be converted from Analog or ISDN to IP / SIP.
VoIP offers many possibilities:
Cost savings
Higher compatibility
More features
Faster installation of new workplaces
When migrating to a new VoIP provider the following three challenges need to be considered:
Compatibility with the existing phone system
Capacity of the internet connection
Further use of older devices and special services
This Whitepaper discusses these challenges and provides possible solutions. Download the complete Guide. Every All-IP scenario outlined and explained!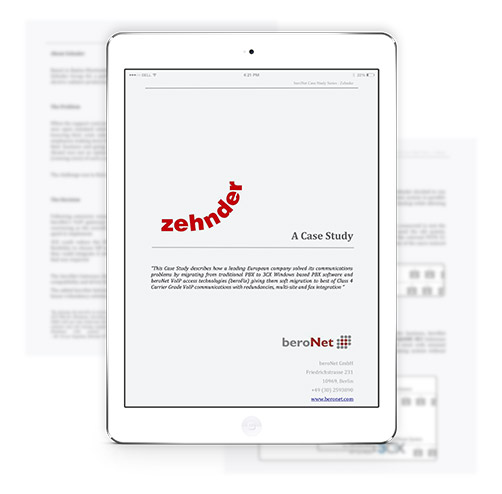 Migrating from an Avaya phone system to 3CX
This Case Study describes how a leading European company solved its communications problems by migrating from traditional PBX to 3CX Windows-based PBX software and beroNet VoIP access technologies (beroFix) giving them soft migration to best of Class 4 Carrier Grade VoIP communications with redundancies, multi-site and fax integration
CONTINUE READING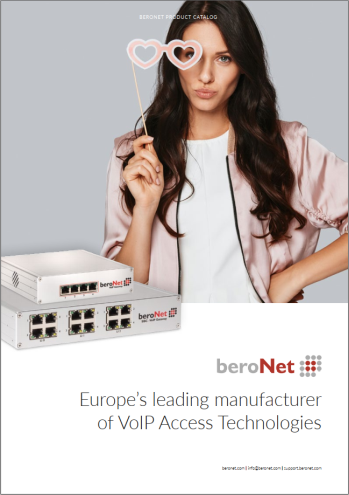 Discover all beroNet products and services in one downloadable catalogue!
BERONET CATALOG